Poultry Flock Talks Series – PennState Extension
Poultry Flock Talks Series is a five week long webinar series designed to answer small and backyard poultry management questions about housing, diets, health, welfare, biosecurity, and raising poultry for meat and eggs.
When

Thu., Oct. 1, 2020 (7:00 PM – 8:30 PM ET)
Thu., Oct. 8, 2020 (7:00 PM – 8:30 PM ET)
Thu., Oct. 15, 2020 (7:00 PM – 8:30 PM ET)
Thu., Oct. 22, 2020 (7:00 PM – 8:30 PM ET)
Thu., Oct. 29, 2020 (7:00 PM – 8:30 PM ET)
Webinar Access

The link to access the webinar is provided immediately upon completion of registration in your registration confirmation email.
Webinar Topics
Creating a home for your poultry flock – heating, lighting, bedding, and ventilation
Feeding – Food sources, water and supplements
Health, diseases, and welfare concerns
Biosecurity of your flock
Improving meat and egg quality
This event is being offered at no charge to participants.
Registration is required to receive the link to access the webinar.
All registrants will receive access to the webinar recordings.
The CPA's Mike Pennington-Martel presented on raising backyard poultry at the following two events!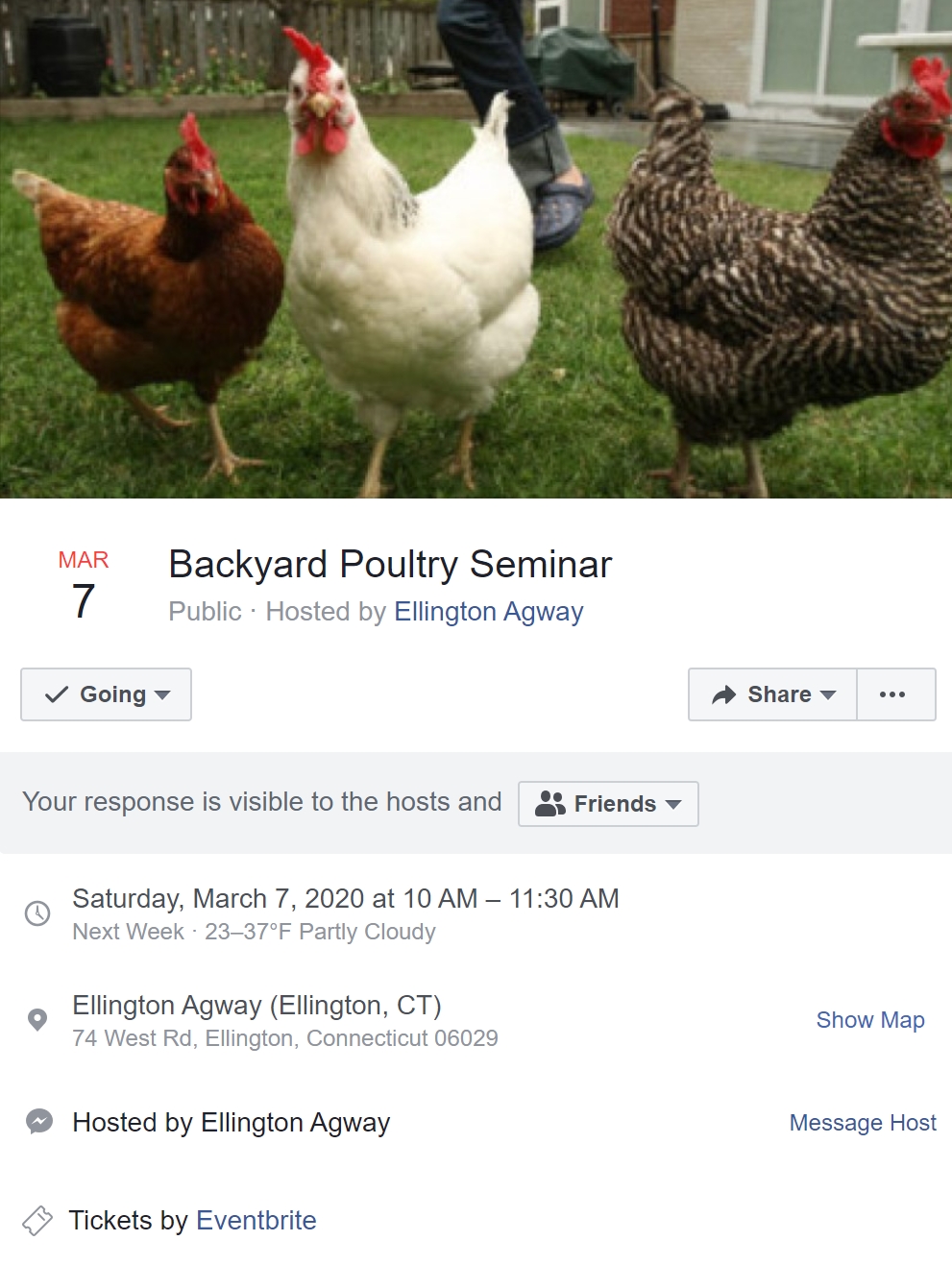 The Connecticut Poultry Assocation and American Egg Board being represented on Nov 15 2019 at Foxwoods.  SNACT held their 70th Industry Food and Trade Show!  There were over 240 registered attendees.  That represented about 90 districts plus 5 charters and over 64% of Connecticut's school enrollment!

Our booth was the first one as attendees entered the show.  We gave out 150 "goodie bags" that contained lots of great literature, along with some fun items like a measuring spoon, hot/cold pack, and jar opener!  All the items in the picture below were given out in the bags.

Sept 21 – 22 2019 – The CPA was located in the Connecticut Building for The Big E!
By far the most popular items were the dinner egg recipe cards, here is a sample of what was given out:
March 20 2019 – The CPA's table at the 2019 AG Day at the State Capitol!
March 2 2019 – Mike Pennington-Martel presents an educational seminar on raising backyard poultry.  This was his first one since taking over as Secretary when Dr. Darre retired.  Ellington Agway was a great host and we had 30+ people show up even with some snow falling.  You can find a copy of the presentation by clicking

H

ERE

.   
Chef Joel Gargano and Coastal Connecticut Magazine recently filmed an all day cooking demo featuring fowl and eggs. This was funded and setup by the CPA and is currently in production! We hope to have some wonderful videos to share within the next month or two, so be on the lookup! Here are a couple behind the scenes pictures care of Coastal Connecticut Magazine. Thank you to the Incredible Egg (American Egg Board) for funding this project! (Nov 2018)
CPA's Chick Hatching Booth at the 2018 Woodstock Fair!!
You're Incredible Because… 2018 Contest
The American Egg Board is seeking nominations for the 'You're Incredible Because…' contest. One 'Incredible Kid' will be awarded $2,500, plus a matching donation to their school, a fun prize pack and an eggsclusive spotlight on
IncredibleEgg.org
and social channels!
Whether it's fundraising for a charity, helping other kids at school, volunteering for community projects or simply inspiring others with acts of kindness, we want to know about the incredible kids at your school! Are they…
Kind to others?
Helpful to classmates?
Eager to volunteer in the community?
Philanthropic?
Entrepreneurial to benefit those in need?
For more information on the contest and entry details go to IncredibleEgg.org/IncredibleBecause
VERY IMPORTANT
Ask all of the adults submitting entries to 'You're Incredible Because…' to use your school name in ALL CAPS on the submissions.
Thank you!